Night School 23
Topics on Industrial Building Design and Design of Non-Building Structures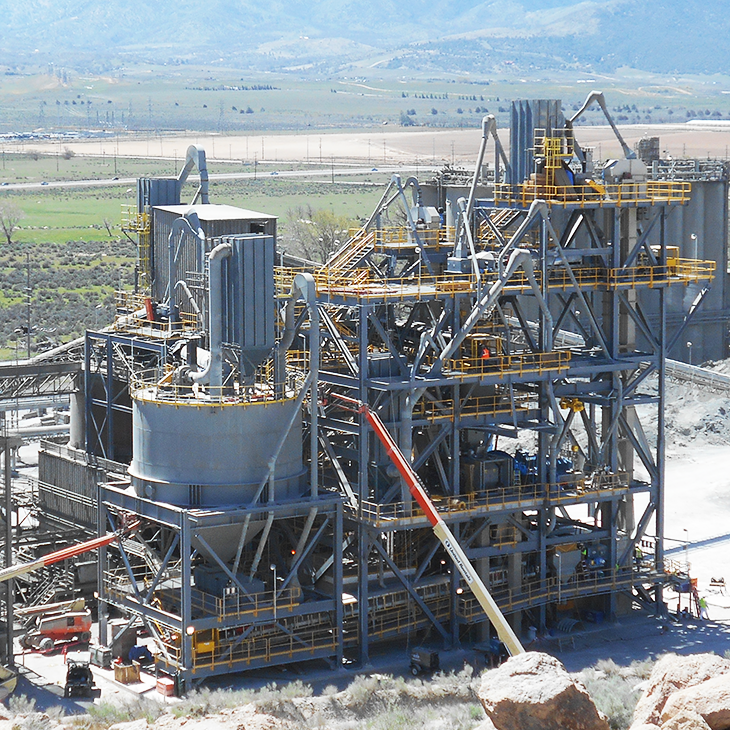 Designing an industrial buiding or a non-building structure comes with many unique factors to take into consideration--things like jurisdiction and code-related challenges; fabrication and erection tolerances; stability; fatigue; extreme temperatures; crane loads; and seismic considerations, just to name a few.
This new Night School sets out to provide guidance about managing the common challenges encountered in the design of these structures.
We'll kick off with a session on code provisions and load requirements and review applicable standards and references.
The following two sessions will review the design of industrial buildings with a focus on unique analysis, member stability, seismic design, standing seam roof framing, and more of the aspects that make this process unique.
The course will then address crane-supporting structures and discuss codes and standards; loads and load combinations; repeated loads; duty cycle analysis; design challenges like stepped columns and monosymmetric sections; preferred details; examples of poor practice; and fatigue design for industrial buildings.
We'll also take a cold look at extreme temperatures before addressing various non-building structures including pipe racks, machine support, and plate structures.
Taught by a group of four highly experienced engineers in the industrial building/non-building structures realm, participants will come away with key information and clarity to tackle the design challenges of these structures.
Date: 6/16/2020 to 8/11/2020
Duration: 1.5 hours per session
Location: Night School
PDH Credits: 1.5 PDH per session (up to 12.0 PDH)

Connection Instructions: Upon registration, you will receive a confirmation email containing your receipt, a link to access the webinar, dial-in audio instructions, and a link to a PDF handout of slides.
Quiz and Attendance Records
View attendance and quiz scores for 8-session package registrants of Night School 23.
View Answers to Night School 23 Quizzes.
Quiz 1: 1. b, 2. d, 3. b, 4. d, 5. b, 6. d, 7. d, 8. c, 9. b, 10. e Quiz PDF
Quiz 2: 1. b, 2. b, 3. c, 4. a, 5. c, 6. c, 7. b, 8. a, 9. b, 10. g Quiz PDF
Quiz 3: 1. c, 2. b, 3. e, 4. b, 5. c, 6. c, 7. a, 8. a, 9. c, 10. b Quiz PDF
Quiz 4: 1. b, 2. a, 3. f, 4. b, 5. c, 6. b, 7. b, 8. b, 9. d, 10. b Quiz PDF
Quiz 5: 1. d, 2. b, 3. a, 4. b, 5. d, 6. c, 7. e, 8. b, 9. c, 10. h Quiz PDF
Quiz 6: 1. a, 2. b, 3. c, 4. d, 5. c, 6. a, 7. a, 8. c, 9. c, 10. b Quiz PDF
Quiz 7: 1. b, 2. c, 3. d, 4. b, 5. a, 6. d, 7. d, 8. b, 9. a, 10. a Quiz PDF
Quiz 8: 1. b, 2. a, 3. c, 4. c, 5. b, 6. d, 7. c, 8. a, 9. d, 10. a Quiz PDF
Final Exam: 1, c. 2. b, 3. d, 4. d, 5. b, 6. d, 7. b, 8. c, 9. d, 10. b, 11. g, 12. c, 13. c, 14. h, 15. d, 16. a, 17. b, 18. a, 19. b, 20. c, 21. b, 22. b, 23. c, 24. d Quiz PDF
Price Info
Individual Live Sessions

$185 Member
$285 Non-member
$155 Student/Faculty
$155 Government Employee

Prices are per webinar. Registration includes certificates for an unlimited number of people at one connection site. Work From Home accomodations are available for this registration option.

Register
8-Session Package

$500 Member
$900 Non-member
$250 Student/Faculty
$500 Government Employee

Registration includes a certificate for the registrant only. Work From Home accomodations are NOT available for this registration option.

Register
Accommodations for Stay-at-home and Safer-at-home orders

In light of the recent changes to daily work life, we understand that many people are working from home at this time. If the individual live sessions registration is the preferred choice for your company, we will accommodate each attendee who would typically gather in your office conference room. Once you've registered for the individual live sessions option, Once you've registered for the individual webinars option, you will have the option to add your employees to the registration.

Substitutions and Cancellations

Substitutions may be made at any time. Cancellations received 1-3 days prior to the webinar will be charged a $50 service charge. Cancellations and no shows the day of the webinar session will not receive a refund.
PDH Credits
| | |
| --- | --- |
| Individual Live Sessions | 1.5 PDHs per webinar (up to 12.0 PDHs) to unlimited attendees at each connection |
| 8-Session Package | Up to 12.0 PDHs (1.5 PDHs per attended session) to the registrant only |
| | |
Attendance
| | |
| --- | --- |
| Individual Live Sessions | Live only |
| 8-Session Package | Watch sessions live or watch"make up" (recorded) sessions available online for four weeks after air date. Credit for recorded sessions is given only when quiz is passed. |
| | |
Quiz + Recording Access
| | |
| --- | --- |
| Individual Live Sessions | Not available |
| 8-Session Package | Available online for four weeks after air date. Access to quiz and recording available through MyAISC account. |
| | |
Certificate of Completion
| | |
| --- | --- |
| Individual Live Sessions | Not available |
| 8-Session Package | 1 EEU (Equivalent Education Unit), AISC's certificate of completion, for the registrant only. Eight session registrants who attend all sessions (live or recorded) and pass 7 of 8 quizzes and the final exam will be awarded 1.0 EEU. Earning an EEU is worth a maximum of 12 PDHs. |
| | |