AISC Education Foundation
Help Us Double the Impact of the Steven J. Fenves Scholarship
Steve Fenves is a true game-changer in the world of structural steel. He's a pioneer in the development of LRFD, a volunteer with AISC for more than half a century, and one of the finest people you'll ever meet.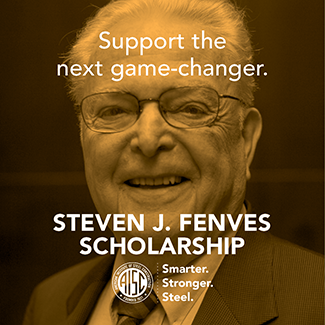 And now, thanks to an anonymous $50,000 donation to the AISC Education Foundation, Steve's contribution to our profession can continue to grow and spread well beyond his dedication to AISC. The Steven J. Fenves Scholarship will allow the Education Foundation to help more student engineers--maybe even the next game-changer--complete their schooling.
If you're in a position to help us honor Steve by developing the next generation of remarkable people like him, please consider contributing to the Education Foundation before the end of the year. All donations between now and the end of the year will go toward this effort. (As always, every penny goes toward education programs, and donations are 100% tax-deductible.)
Individual Contribution Corporate Contribution
Prefer to donate by check? That's just fine! Please make the check out to "AISC Education Foundation" and mail it to: AISC Education Foundation, PO Box 8761, Carol Stream, IL 60197-8761.


All 2023 donations made to the Education Foundation prior to November 1 supported the AISC Education Foundation's Funding the Future Campaign.

We know great things happen when promising students have the space to be creative and pursue their individual interests. The AISC Education Foundation has begun to fund undergraduate research grants, giving undergrads the rare opportunity to spend a term studying structural steel design and construction under the direction of a faculty sponsor.
In addition, we've expanded the Adopt-a-School program to allow faculty and fabrication companies to build on their existing relationships with expanded activities. These activities can range from shop tours and lab material donations to development of a full course such as a capstone project or an architecture studio focused on steel design and fabrication. This program offers endless possibilities for faculty who know how their students learn best.
Stay tuned for a new faculty internship program designed to give educators who haven't worked in the industry some valuable hands-on experience to draw on when they teach. We're also launching travel-based programs that will develop stronger connections between students and industry, both inside and outside the classroom.
You can get in on the ground floor and help us build a strong foundation for these programs. We're raising funds not just for the year, but for years to come. A larger fund at the core of the AISC Education Foundation will return more interest, compounding the effect of every dollar in perpetuity.
After all, the legacy of structural steel is built on generations of compounding hard work and ingenuity. The current generation stands on a foundation built by those who came before us, and now it's our turn. It's up to us to provide great shoulders for future generations to stand on.
If you're in a position to do so, please consider investing in the future of our industry. Help us forge a bright future for our industry's next century.
---

Your Contributions Made Our 2022 Fundraiser a Success!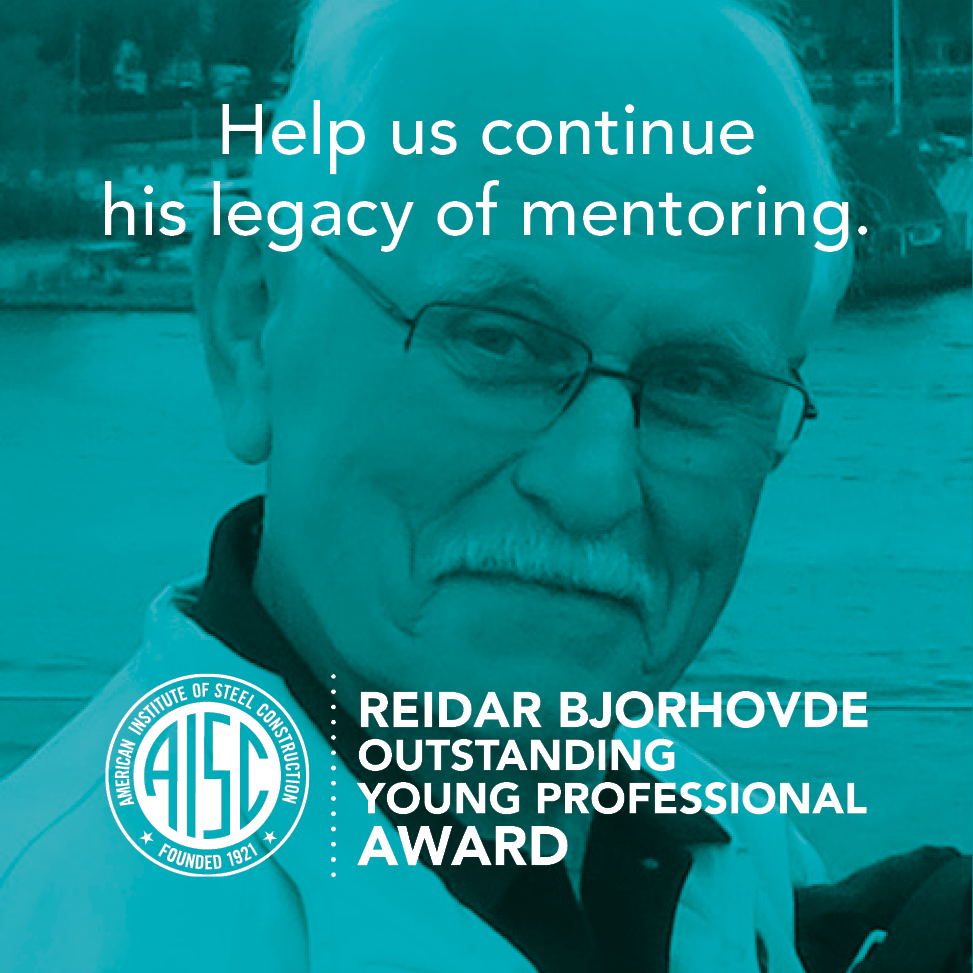 Thank you to everyone who joined the Nucor/Bjorhovde Challenge and helped us exceed our $50,000 fundraising goal, raising a total of over $63,000 (and counting!) to establish a new, permanent award program: The Reidar Bjorhovde Outstanding Young Professional Award. Over the course of just a few weeks, the Education Foundation raised $63,320. Quite a testament not only to Reidar's life and legacy, but to the amazing generosity of our donors. We are honored to continue doing what he so loved: mentoring.
While our online campaign for this program has ended, it's not too late to contribute! If you are interested in supporting this particular program, please contact Maria Mnookin at mnookin@aisc.org or 312.758.7802.
---

Want to learn more about the AISC Education Foundation?
AISC's Funding the Future programs are just a few examples of the many programs the AISC Education Foundation funds to ensure the long-term vitality of the structural steel industry in our support of faculty, students, and others throughout the United States.
We invite you to learn about the Education Foundation, its Board of Directors, our annually funded programs, how you can contribute, and more by exploring our website by clicking the links in the navigation menu.
---
The AISC Education Foundation is a registered 501(c)(3) nonprofit organization. Every penny donated to the AISC Education Foundation is 100% tax-deductible and goes to students, educators, and education programs.