National Steel Bridge Alliance
Extending In-Service Life of Steel Bridges
References for Extending In-Service Life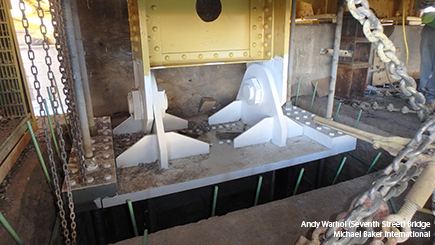 Maintenance Actions to Address Fatigue Cracking in Steel Bridge Structures
Authors: Robert J. Connor and Jason B. Lloyd
Description: This document provides guidelines for the maintenance actions to address fatigue cracking and details at risk of constraint-induced fracture (CIF) in steel bridges. It is a synthesis of best practices from published literature, project reports, past and ongoing research projects, as well as input from industry professionals gathered through a web-based survey. Intended to be a very practical reference text, it is written with everyone in mind from a maintenance contractor to an asset manager and design engineer, providing detailed descriptions of the driving causes of fatigue cracking and CIF in steel bridges and accepted methods for repair or retrofit. A number of case studies are discussed giving context for the different detail susceptibilities and utilizing a mixture of real-world and rendered images to illustrate the problems and solutions. For each case, a suggested sequence of steps is also provided as a ''how-to."
Extending Bridge Service Life Through Field Welded Repairs and Retrofits; NCHRP Synthesis 489
Authors: Philip E. Fish, Curtis J. Schroeder, Robert J. Connor
Description: This NCHRP Synthesis documents practices associated with field welded repairs on existing steel bridges used by bridge owners. The information presented includes the extent to which field welding is performed on existing bridges, common types of field welded repairs and retrofits, specifications, and quality control practices.
Manual for Repair and Retrofit of Fatigue Cracks in Steel Bridges, FHWA Publication No. FHWA-IF-13-020
Authors: Robert J. Dexter, and Justin M. Ocel
Description: This manual was the result of a consensus workshop held in August 2002 with world leaders in bridge fatigue and fracture. The purpose of the manual was to serve as a repository of common fatigue situations encountered with steel bridges and document the possibilities of repair and retrofitting fatigue cracks.
---
FHWA Design Examples for Bridge Strengthening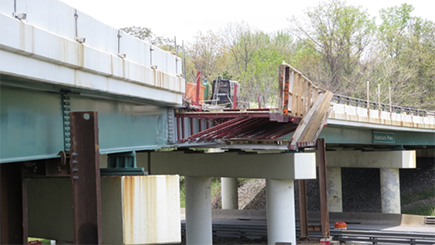 Design Example – Steel Truss Member Strengthening, FHWA-HIF-18-042
Author: C. Ahlskog
Description: This design example, steel truss member strengthening, involves the addition of steel cover plates to steel truss members, one-tension member and one-compression member. The bridge is to be strengthened to meet HL-93 design loading (Existing bridge designed for HS-15 live load).
Design Example – Plate Girder Shear and Flexural Strengthening, FHWA-HIF-18-043
Author: C. Ahlskog
Description: This design example, plate girder shear and flexural strengthening, involves the addition of steel strengthening material to an existing steel plate girder. The existing bridge was designed for HS-20 live loading. The girder is to be strengthened due to section loss from corrosion. The design criteria is to strengthen the girder to obtain a HS-20 live load rating factor equal to or greater than 1.0.
Design Example – Stringer Retrofit - Composite Action and Continuity, FHWA-HIF-18-044
Author: C. Ahlskog
Description: This example involves the replacement of stringers during re-decking on an existing truss/floorbeam/stringer bridge. The existing stringers are non-composite rolled W24x76 beams, that were designed for HS-20 live loads. The design criteria is to provide new stringers to obtain a HS-25 live load rating factor equal to or greater than 1.0, while minimizing the weight of the new stringers. The flexural live load ratings of the new stringers were significantly increased by both making the stringers composite with the new deck and changing the continuity of the stringer spans. This example only involves a study of the flexural resistance of a typical interior span for the new and existing stringers using the Strength-I Limit State.
---
Heat-Straightening
Heat-straightening is an effective tool in working with damaged steel bridge girders and other components often caused by overheight vehicles. Important references regarding heat-straightening include the following:
Guide for Heat-Straightening of Damaged Steel Bridge Members, FHWA Report No. FHWA-IF-08-999
This guide provides comprehensive guidelines on heat-straightening repair techniques for damaged steel bridge members. This Guide is a condensed and updated version of the previous FHWA Report, FHWA-IF-99-004, "Heat-straightening Repairs of Damaged Steel Bridges, A Manual of Practice and Technical Guide."
Heat-Straightening Repairs of Damaged Steel Bridges A Technical Guide and Manual of Practice, FHWA Report No. FHWA-IF-99-004
This is the original guide for heat-straightening repair techniques, that was condensed into FHWA-IF-08-999. This manual is divided into three parts. Part I provides a background and overview of the heat-straightening process. Part II is a technical guide to heat straightening directed primarily to engineers. Part III contains guides, specifications and reference material.
Heat-Straightening Repair of Damaged Steel Bridge Girders: Fatigue and Fracture Performance, NCHRP Report 604
Authors: R.J. Connor, M.J. Urban, E.J. Kaufmann
This report summarizes the results of a project to establish limits, based on fatigue and fracture performance, on the number of damage and repair cycles to which damaged steel bridge girders may be subjected using the heat-straightening procedure. A key product if this research are suggested revisions to the FHWA manual of practice for heat straightening.
---
Rehabilitation and Repair Examples in Practice that have extended a Steel Bridge's In-Service life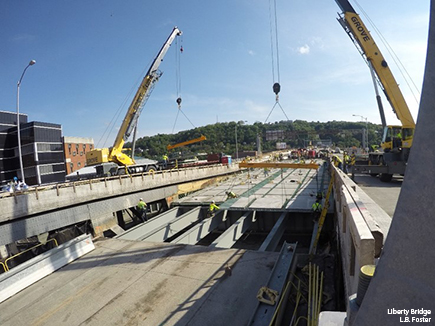 Longfellow Bridge Historic Rehabilitation
This paper provides a brief overview of the rehabilitation of the historic 1907 Longfellow Bridge and a description of the steel detailing and fit up challenges which involved the installation of over 200,000 new pieces of steel.
Pennsylvania's First Exodermic Deck: Accelerated Deck Replacement & Rehabilitation of the Liberty Bridge
This paper provides an overview of the rehabilitation of the landmark 1928 Liberty Bridge, including the replacement of the deck with a new exodermic deck.
Poplar Street Bridge Rehabilitation and Widening
The bridge has twin Eastbound and Westbound superstructures consisting of two variable depth steel box girders with an orthotropic steel deck on a shared substructure. A unique aspect of the project was the sliding of the existing bridge to increase the roadway width, and then connect them together using a concrete deck on a stringer-floor-beam type cross frame system which added redundancy and improved the performance of the structure.
Repair, Strengthening, and Re-use of Steel Girder Bridges: Two Case Studies
This paper discusses two girder/beam bridge case studies that required unique solutions to repair, strengthen, modify, and extend the service life of the steel superstructure, and the challenges associated with these unique solutions.
Rehabilitation of Collision Damaged Beams Using Heat Straightening for I-66 over Route 29
This paper presents the development of final plans and repair procedures for the heat-straightening repair of steel beams damaged by overheight vehicle collisions.
US 84 Mississippi River Bridge - Truss Pin and Link Replacement
The existing truss pins and links were removed and replaced. Temporary restraints were used to bypass the load in the truss pins and link and instrumentation used to evaluate stresses in the truss during removal.
Strengthening Continuous Steel Girder Bridges with Post-Installed Shear Connectors
This paper summarizes the results of an experimental investigation on a strengthened girder tested under both fatigue and strength loading conditions, describes the design process and connector installation procedure, and discusses construction considerations for strengthening bridges in this manner.
Scanning, Plating and Heat Straightening, Oh My!
Tools for designers to use as they approach truss rehabilitation projects are presented through a series of case studies. Tools or approaches include, large distortion heat-straightening, laser-scanning, and repair plate integration into gusseted connections.