National Steel Bridge Alliance
The Latest Steel Bridge Innovations
Revisiting redundancy for steel bridges
What does a two-winged aircraft have in common with steel bridges?
The answer is reliable and safe service through redundant structural design. Aren't the wings fracture-critical, though? No! Effective and efficient redundancy in design can be achieved through system or member-level mechanisms utilizing engineered damage tolerance that is linked to the structure's inspection intervals. Read more here.
Learn more about redundancy in steel bridges in these Modern Steel Construction articles:
---
450-ft spans with steel plate girders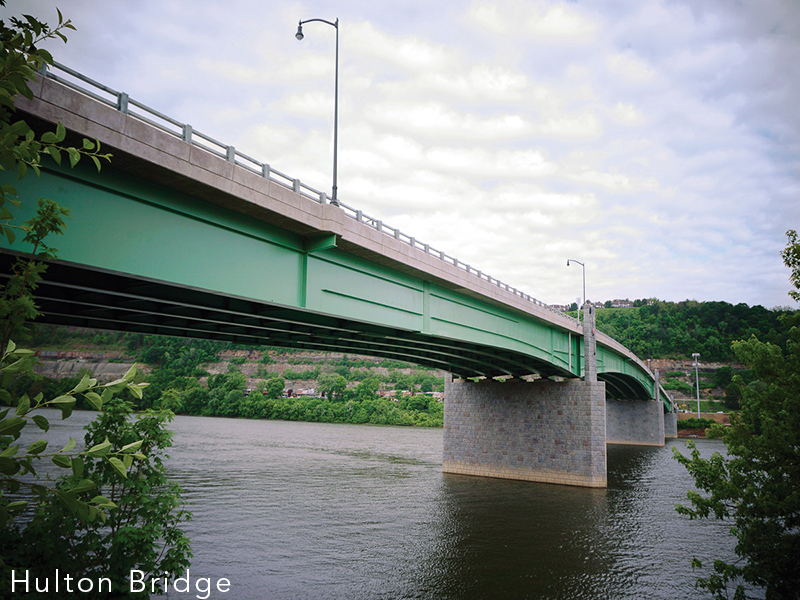 Yes, you read that right! Steel plate girder bridges are reaching new lengths.
"Steel permits cost-effective longer spans for crossing streams, lakes, wetlands, and environmentally protected areas. The long spans may eliminate or at least minimize environmental impact. In some cases, the long spans possible with a steel bridge can avoid the need for costly environmental impact studies. Longer spans also reduce the number of piers necessary for a crossing, minimizing the number of elements affecting the aesthetics."
- Michael P. Culmo, PE, Chief Bridge Engineer, CME Associates, Inc.
Here are a few examples:
---
Reduce cross-frame cost with lean-on bracing
Lean-on bracing uses a series of struts that transfer forces to one or two cross-frames to prevent lateral-torsional buckling of plate girder bridges.
Texas allows lean-on bracing for straight girder bridges. Refer to the TxDOT Bridge Design Manual (Chapter 3, Section 13) for details or read this report on the bracing behavior of cross frames and diaphragms in steel bridges with skewed supports.
You can learn more in this webinar with Jamie Farris of TxDOT. (You'll want these handouts to go with it.)
---
Using BIM to reduce time to construction
Building information modeling (BIM) is crossing from the structural market to the bridge industry. Several DOT, FHWA, and NSBA groups are currently working on improving and implementing the process as BrIM (Bridge Information Modeling) advances.
Here's what's going on:
---
How to add life span to aging steel bridges
Major steel bridges throughout the country are getting a new lease on life thanks to the many rehab and strengthening techniques that can easily take advantage of the existing steel. We are seeing many bridges with service lives increased beyond the normal 75-year life span--and quite a few that have passed the century mark in the railway and highway markets.
---
Modern corrosion protection systems
The days of red lead paint are over. Modern corrosion protection systems are helping steel bridges stand the test of time.
---
Sustainability in steel
Structural steel is the premier green construction material. Its high recycled content and recycling rate exceed those of any other construction material. Over the past three decades, the steel industry has reduced greenhouse gas and overall emissions by 36% and increased the water recycling rate of steel production to 95%. While numerous legislative and regulatory efforts in recent years have targeted emissions, energy efficiency, and related environmental concerns, the structural steel industry has been proactive in pursuing measures that typically exceed regulatory requirements.
At this point, the vast majority of the environmental impact of making steel comes from energy use. Some large American fabricators are investing in solar panels and wind turbines to offset their use of traditional energy sources. There are many other systems currently in the research phase, such as this Swedish proposal for fossil-fuel-free steel production.
---
Accelerated bridge construction
Steel bridges lend themselves well to accelerated bridge construction due to their reduced weight, which allows for smaller and less expensive construction equipment, and steel's resistance to variable stresses during erection.
Steel bridge beams and elements can be fabricated to a high degree of precision, and the resulting versatility facilitates prefabrication and fit-up. Steel can also reduce the weight of prefabricated elements and the overall bridge, reducing the cost of accelerated construction equipment such as cranes and self-propelled modular transporters. The steel beams used in accelerated bridge construction (ABC) are also more resistant to stress reversals that are common in lifting and movement of elements and bridges during ABC than other materials.
ABC-UTC
The ABC-UTC (which stands for University Transportation Center) has assembled an experienced, knowledgeable, and engaged group of bridge academics and engineers who collectively provide the transportation industry with the tools it needs to effectively and economically use the principles of ABC to enhance mobility and safety to produce safe, environmentally friendly, long-lasting bridges. Below is some information regarding the ABC-UTC and advanced technology using steel.
ABC-UTC maintains a project database with projects that use steel, projects that use prefabricated bridge units, projects that use a lateral slide for the steel superstructure during construction, and more.
Link slabs:
Accelerated bridge construction has made significant progress over the last 15 years, and link slab technology particularly demonstrates how ABC can improve the speed of construction with steel.s are a technology where the speed of construction for steel is evident.
Sandwich plate system (SPS):
The sandwich plate system (SPS) is a composite material of two metal plates bonded together with a polyurethane core.
Folded steel plate girder system (FSPGS):
The folded steel plate girder, or FSPG, is an economical alternative for simple and short-span bridge construction. This innovative yet simple model has a long service life, requires little maintenance, and is designed for accelerated project delivery. Click here for more information on FSPGS. The PennsylvaniaRapid Bridge Replacement Project (PRBRP) used folded steel plate girders to great effect.
Press-brake-formed tub girder:
The press-brake-formed tub girder system consists of modular galvanized shallow trapezoidal boxes fabricated from cold-bent structural steel plate.