Publications
AISC offers an extensive collection of documents and publications related to the design and construction of fabricated steel buildings and bridges. Many of our documents are free downloads to the general public, and thousands more are free downloads for AISC members. To access member benefits, you must be logged into the site. Contact our membership department for more information.
---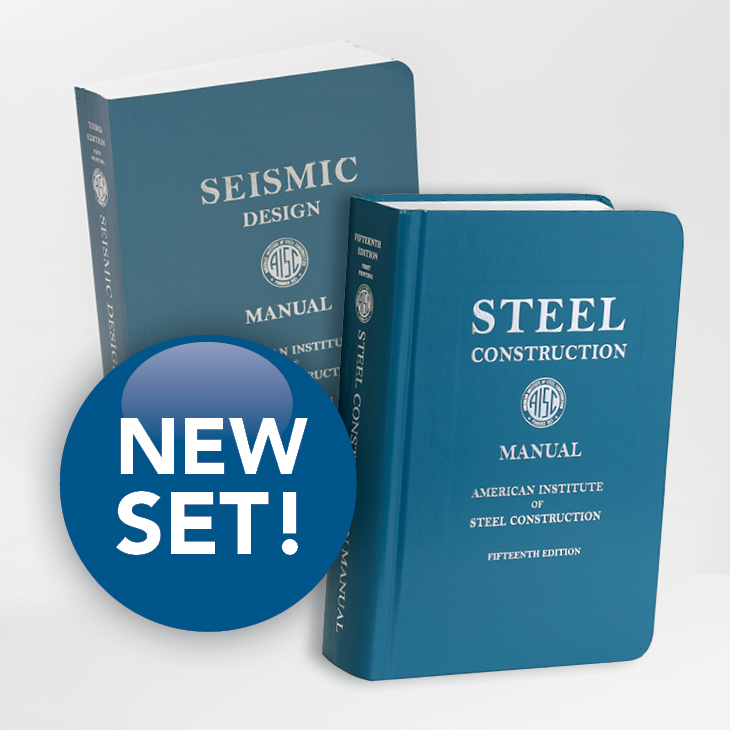 Steel Construction Manual & Seismic Manual Set
The 15th Ed. Steel Construction Manual and the 3rd Ed. Seismic Design Manual are now available as a set at a special price!
New!


Standard for Certification Programs

The updated AISC 207-20 features a new title, Standard for Certification Programs, and a brand-new sixth chapter for the certification of hydraulic metal structures. Also, this edition increases clarity with italicized text highlighting glossary-defined terms, terminology changes to account for digital documentation, and expanded commentary.
New!


Bolt Specification

The updated RCSC Specification for Structural Joints Using High-Strength Bolts (June 11, 2020) is now available for downloading!
If you experience issues with the checkout process, please email orders@aisc.org with your phone number and we will return your call as soon as possible. We apologize for any inconvenience.
---
The fine print: Digital manual subscription purchases are final. Purchasers are responsible for applicable shipping, sales tax, and Canadian customs levied at the border, if applicable. All orders shipped UPS ground and require a street address for delivery. Sale prices valid for AISC members and non-members, while supplies last. Sale discounts not applicable to resellers and bookstores. All transactions at sale prices are final.