Team Resources
Here, you will find the information you need to know as a team competing in the 2020 AISC Student Steel Bridge Competition.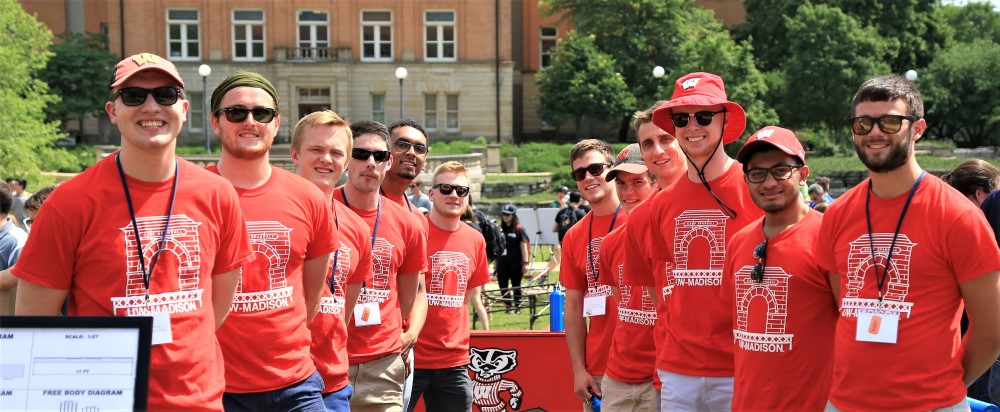 UW-Madison 2018
2020 Competition
The Student Steel Bridge Competition (SBBC) is a program sponsored by the American Institute of Steel Construction (AISC). There will be 18 SSBC Regional Events with approximately 200 schools participating. The winners of the Regional Events, with the exception of Guest Teams advance to the National Finals.
How to compete
Step #1 Pre-register your team by November 15, 2019
In order for your school to compete in the 2020 AISC Student Steel Bridge Competition, the teams Faculty Advisor must complete the pre-registration form by November 15, 2019. Upon pre-registering, your team will receive your $500 SSBC Participating Team Stipend from AISC.
Step #2 Register with Regional Event Host School
Once your team is pre-registered with AISC for the 2020 competition, Your team must also register to attend with the Regional Event Host at a later date. All pre-registered teams will receive an email from their SSBC- Regional Event Host School with registration information by December 15.
Regional Events
The 18 Regional Events are organized independently by host schools under the guidance of AISC. For planning, convenience, and team budgetary reasons, the 2020 Regional Events will largely follow the ASCE Student Conference dates and locations.
National Finals
Top finishers at the 2020 Regional Events qualify to compete at the 2020 National Finals to be held at Virginia Tech, May 22-23, 2020. Please note: The competition is on Memorial Day weekend.
The number of teams from each Regional Event that qualify for the National Finals is dependent on the number teams that have entered the Regional Event, excluding Guest Teams. See the table below:
| | |
| --- | --- |
| # of Teams at Regional Event* | # of Teams that can qualify for National Finals from Regional Event |
| 2-5 teams | 1 team invited to National Finals |
| 6-11 teams | 2 teams invited to National Finals |
| 12-17 teams | 3 teams invited to National Finals |
| 18+ teams | 4 teams invited to National Finals |
*does not include guest teams
Rules
All of the Regional Events, as well as the National Finals are based on the same rules document that describes the competition and states the Official Rules. The Rules are developed by the SSBC Rules Committee and are changed every year. The current Rules must be used without modification for every Regional Event and the National Finals. This is necessary so that bridges from all conferences may compete nationally without disadvantage.
Questions & Clarifications
AISC maintains a clarifications page, where the rules can be downloaded and Rules questions are addressed. Rules questions may be submitted only through the official online form. Rules questions are reviewed by the SSBC Rules Committee, and the Rules Committee's clarifications are posted online for access by all competitors.
FUNDING
Regional Events
Team Funding for Regional Events
Each U.S. school that is pre-registered to compete in a Regional Competition receives $500 from AISC in support of their SSBC team. The check will be sent to the Faculty Advisor's mailing address by December 15, 2019*
Faculty Reimbursement
One faculty sponsor from each school will receive hotel reimbursement for attending the SSBC Regional Event. Learn more on our faculty resources page.
Funding for Regional Event Host Schools
The Regional Host school receives $2,500 from AISC to assist with expenses incurred in organizing the Regional Competition. In addition, AISC provides competition equipment, award plaques for all of the competitions, and sources sponsorships.
AISC Sponsor Recognition
As one of your team's sponsors, please remember to include AISC in your lists of donors. If you plan to advertise your sponsoring companies, as many teams do, you may use the AISC logo that is available for download here.
National Finals
Team Funding for National Finals
Invitations to the National Finals are extended to the top-performing teams at each Regional Event. (See Section 4 of the Rules for specifics on eligibility.) Each team that qualifies for the National Finals receives $1000 from AISC. This funding is provided in the form of a check and is presented at the Captains' Meeting at the National Finals.
Host School Funding
AISC provides additional funding and support to the host school of the National Finals.
Fundraising
School Funding
Clubs are encouraged to request additional funds from their college/ university or engineering department.
Fabricator Partnerships
To assist your SSBC Team in securing partnerships with local fabricators, please fill out this fabricator partnership request form, located in the 'Additional Resources' section below.
Team Solicitation and Sponsorships
In addition to AISC and school funding, we encourage you to raise funds for your team's expenses through fundraisers and sponsorships. Local businesses and alumni are great resources for fundraising!
Local SEA Member Organizations
We encourage you to reach out to your local SEA member organizations for member support!
Additional Resources
Software Sponsor
| | |
| --- | --- |
| | As a 2020 SSBC National Software Sponsor, Bentley Institute is pleased to offer free software and learning options in support of SSBC teams. Learn More |