Team Resources
Here, you will find the information you need to know as a team competing in the 2019 AISC Student Steel Bridge Competition.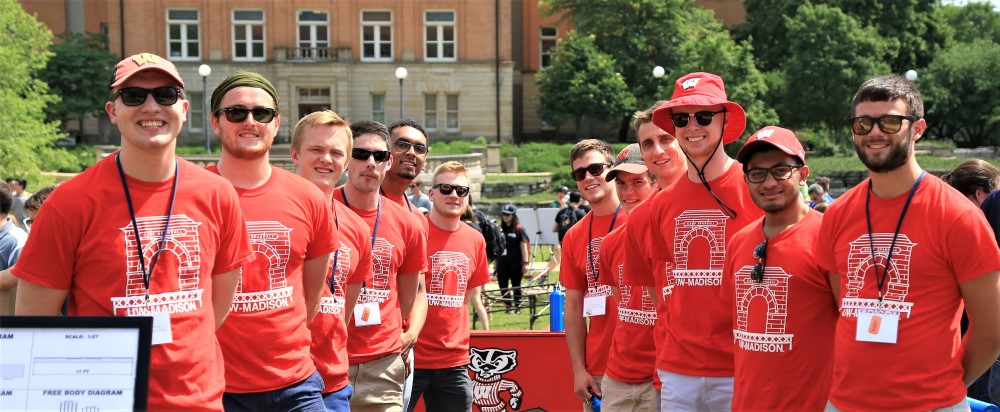 UW-Madison 2018
Register with AISC
AISC Team participation registration in an SSBC- Regional Event is closed. Participating teams will be contacted by their host school in January to register their team for the actual event.
Start an SSBC Club!
There are a variety of ways Student Steel Bridge Competition Teams are structured. One of them is through an SSBC Club. Learn about tips and benefits to forming a club here.
Additional Resources
Plan your Bridge Project
For a successful performance at the Regional Event and National Finals, it's important to get started early! An example timeline is provided here to ensure your team has the resources necessary, is properly registered, and has enough time to practice constructing your bridge for competition. Note: This timeline may vary depending on school calendar and date of Regional Event.
Team Faculty Advisor Expectations
Please review our faculty advisor expectations to learn about the role.
Branding Guide
While your team is a separate entity of SSBC, we encourage you to follow our branding guidelines on all external communications. Together, through consistent usage and branding, we can communicate a unified message.
Social Media
The official SSBC hashtag is #SSBCxAISC. Be sure to follow the hashtag to see what other SSBC teams are up too! AISC will post your tagged pictures to our instagram, @AISC! View more social media tips here.