Team Resources
Here, you will find the information you need to know as a team competing in the Student Steel Bridge Competition.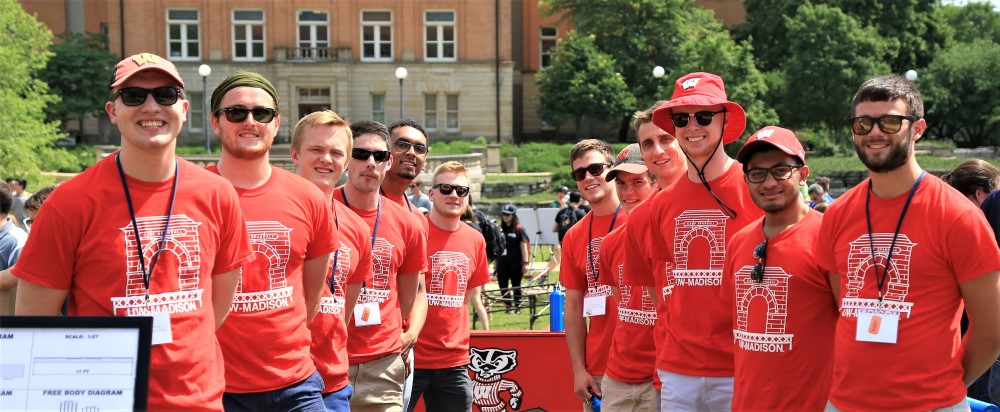 UW-Madison 2018
2022 Competition Update
AISC and the American Society of Civil Engineers (ASCE) renewed their partnership for the SSBC, starting with the 2021-2022 school year. The two organizations plan to run regional competitions at ASCE Student Symposia throughout North America with a national finals to be held in May.
---

2022 Competitors Guide
The 2022 Competitors Guide is filled with information, general guidelines and helpful tips for SSBC Teams. This resource is a supplement to all other SSBC resources and is to be used as a companion to the SSBC Rules. It can be especially helpful to first-time competitors or those brand new to the competition.
Safety Awareness Guide for Fabrication
While the particular circumstances are specific to each team, this document contains general guidelines to consider when planning for the safety of your team.
Team Participation Stipend
Eligible teams will receive limited funding for the competition in the form of a stipend. AISC provides $500 stipends to eligible U.S.-based teams that compete at Regional Competitions in North America and $1,000 stipends to U.S.-based schools participating in the National Finals. ASCE provides stipends to eligible teams that are located outside of the U.S.
Be sure to complete ASCE's Student Chapter SSBC Participation Form by October 30th so that you can receive this and other sponsor benefits! The link to the form will be provided in Host Mailer #1.
Special Note:
We understand that there have been delays with the distribution of mailers in some regions. Don't worry -- this will not prevent you from receiving the team participation stipend! Please just complete the form as soon as you can. If you have questions, please contact us.
Team Recruitment Video
Is your team trying to recruit new teammates? Get potential members excited by sharing this SSBC recruitment video!
Working Remotely as a Team Guide
Many SSBC tasks such as team recruitment, project planning, fundraising, and bridge design can all be done remotely. To help with this, we've put together a guide for students to ease the transition to virtual teamwork. Even if students are already familiar with virtual classes, we hope the tools in this guide will help them develop strategic teamwork skills that will serve them well for the rest of their professional lives.
Video: "SSBC: Bridging the Gap and Getting Started"
Are you new to the Student Steel Bridge Competition? Has it been a few years since your school has been able to participate? Are you wondering how best to get started for this year's competition? In this webinar recording, we go over the basics of the SSBC and chat with three experienced SSBC alumni who share their advice for building a successful team.
Opportunity with IMPACT Facilities
We've partnered with the Ironworker Management Progressive Action Cooperative Trust (IMPACT), and IMPACT facilities across the country are opening their doors to support SSBC teams. This may be particularly beneficial for teams who may not have access to the necessary resources or facilities on their own campus for fabrication. Learn more at aisc.org/ssbc-impact.
Fabricator Partnerships
AISC has a strong fabricator membership who are always looking to support students. If your SSBC team would like assistance with securing partnerships with local fabricators, please complete this fabricator partnership request form. Once your request is submitted, AISC will provide you with a list of contact information for AISC Member Fabricators in your area, as well as a letter template to assist in your solicitation request.
Fabricators could potentially support you in the following ways:
Donate materials for the bridge
Assist in fabrication services for the schools that do not have their own shop facilities (Students are encouraged to maximize their involvement in fabrication!)
Based upon the Rules, provide guidance on constructability and cost
Make a monetary contribution to the school that can be used to offset expenses, such as materials, other equipment, shop training, and travel to the Regional and National Competitions
Fabricator Partnership Request Form
AISC Student Clubs
Collegiate students can now form official clubs directly affiliated with AISC, gaining access to a wide array of resources, benefits, as well as educational and networking opportunities. Please proceed to the AISC Student Clubs page for more details!