Early Career Faculty Award
Thanks to all who submitted nominations! Stay tuned for the announcement of winners in early 2020.
The Early Career Faculty Award provides recognition to individuals who demonstrate promise in the areas of structural steel research, teaching, and/or other contributions to the structural steel industry. This award honors full-time faculty in Civil Engineering, Architectural Engineering, Architecture, Construction, or Construction Management at North American universities who are on the tenure track or have received tenure within the last three years.
Winners will be notified and announced in early 2020 and will be formally recognized at the 2020 NASCC: The Steel Conference in Atlanta, April 22-24.
To nominate an individual for this award, you will need to fill out an application form and provide the following attachments:
Copy of the nominee's curriculum vitae
Brief summary (2-3 sentences) of the potential impact of the nominee's planned structural steel research on the structural steel industry. This summary is to be written by the nominee.
List of all of the classes that the nominee has taught, and a set of sample class notes.
Summary of student evaluations and selected student comments.
Two letters of reference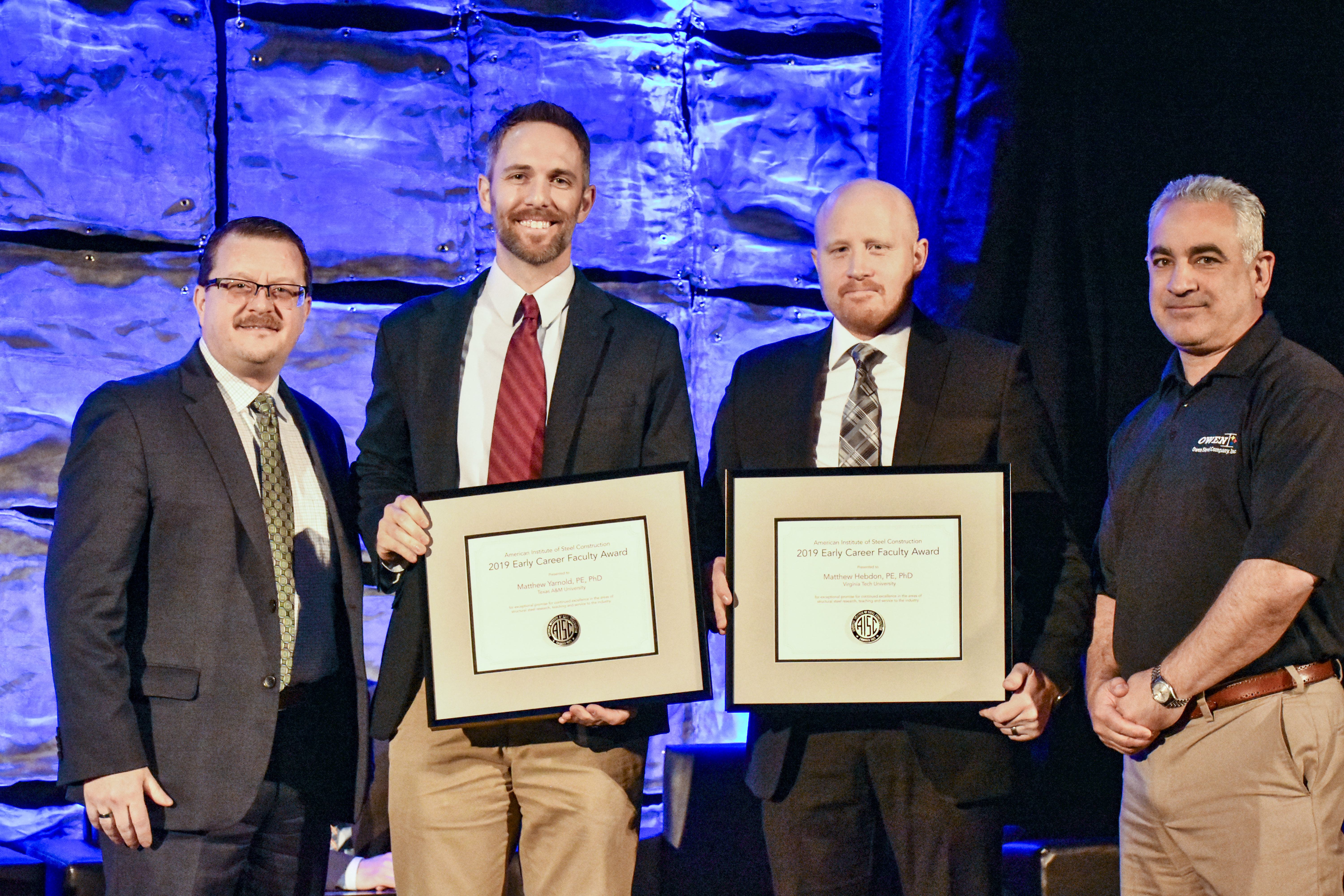 2019 Early Career Faculty Award Winners
Early Career Faculty Award Winners
Matthew Yarnold, PhD, PE, Assistant Professor, Texas A&M University
Yarnold focuses on research related to steel bridge design, performance and monitoring, including local buckling of trapezoidal rib orthotropic bridge decks, rapid testing of steel bridges, and hot rolled singly symmetric I-beams. In addition to his research, Yarnold focuses on teaching, where he strives to bridge the gap between classroom education and engineering practice. He provides his students with an opportunity to experience structural engineering projects first hand through construction site tours and steel mill tours. His real-world experiences help contribute to the knowledge-base of his lectures and allow him to provide a unique view of the industry as he explains steel class topics and implements models in class.


Matthew Hebdon, PhD, PE, Assistant Professor, Virginia Tech University
Hebdon has broad experience in the steel industry, with current and recent research in fatigue and fracture, redundancy of steel bridge systems, bridge monitoring and testing, steel corrosion and mitigation, historic steel fabrication methods, evaluation and rehabilitation of deteriorated steel structures, and large-scale testing of structures. He has a passion for steel from the material level to the structural level, and will continue to engage with stakeholders in the steel bridge, fabrication and building sectors to propel steel innovation and research.
William N. Collins, PE, PhD, Assistant Professor, University of Kansas
Dr. Collins has been successful in the multifaceted roles of his position as assistant professor. His excellent teaching record, successful research portfolio and impactful professional service activities indicate that he will have a long and successful career as a professor and will continue to contribute to the structural steel industry through numerous avenues. All of the classes he has taught at KU are directly related to structural steel. These include undergraduate steel design, graduate steel building design and graduate fracture mechanics. In addition to teaching, he has created a variety of learning opportunities for students outside of the classroom. In the past three years he has taken more than 150 students to SteelDay events around Kansas and Missouri, which gives students a first-hand view of the structural steel industry and has even led to employment opportunities for KU graduates. In addition, he is working on a variety of projects with the potential to influence the structural steel industry. As principal investigator he is leading two major steel bridge related projects. The first is an NCHRP project examining the fracture toughness of heat-affected zones in welded steel bridges. The second is an exploration into the use of digital image correlation (DIC) to identify fatigue cracks as part of an automated inspection process. Collins is also contributing to this important area of research as a collaborator on a FHWA Pooled Fund project using elastomeric skin sensors to identify fatigue crack initiation on steel bridges without the need for human inspectors. He also serves as a member of two Transportation Research Board (TRB) committees, and is an active member of ASTM International committees related to fracture mechanics and impact testing of metals.
Ashley P. Thrall, PhD, Myron and Rosemary Noble Associate Professor of Structural Engineering, University of Notre Dame

Dr. Thrall is an innovative and dynamic researcher and teacher in the structural engineering group of the University of Notre Dame. She has a unique perspective that started early in her career studying historical structures and developing an understanding of their design. She went on to develop a deep mechanics-based analysis expertise which has blossomed into building the leading laboratory in the country focused solely on civil kinetic structures. The problems and methods she has tackled have been widely varied but always focus on out-of-the-box innovative design, incorporate the most advanced analysis, rapid prototyping and testing methods, and bring communities together whether in Europe or the U.S., integrating industry, consulting and academia. Her steel-focused work includes accelerated construction of steel bridges through adjustable connections and modular design, impacting both fabrication and erection costs and setting a firm theoretical framework to a very practical problem. Her digital image correlation methods applied to laser etched steel are revolutionary. She will be monitoring the steel girders of the new Tappan Zee Bridge using the digital image correlation methodologies. Her innovation and creativity are widely recognized and as a result her laboratory is very well funded through a diverse range of federal and state agencies, something that is extremely difficult to do in her area. Thrall has also been as innovative mentoring students in her laboratory and teaching classes as she has been in her research. She arms the students in her statics, steel and bridge classes with the ability to solve challenging and real world problems, as well as provides high school and graduate students exposure to the many and diverse aspects of her discipline through a wide range of opportunities, from field trips to lectures.