Set your alarm for the AISC Cyber Monday sale!
We're grateful for a lot at AISC--mostly, we're grateful for the amazing people who make this industry what it is!
So we'd like to offer you a present for the holiday season: a flash sale on the 15th edition Steel Construction Manual, selected Design Guides, and education programming.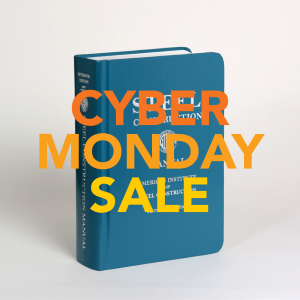 We're dropping these prices for one day only! These deals start at 7:00 a.m. Central time on Monday, December 2 and expire that evening at 6:59 p.m. Central time. Visit the the AISC Publications page to order. You can also call 800.644.2400 between 7:30 a.m. and 4:00 p.m. Central time Monday to order the Manual and Design Guides.
The member price for the Steel Construction Manual is now $175 (reduced from $200). The sale price is $350 (reduced from $400) for non-members.
Design Guides 1 through 30 are just $10 for members (down from $40) and $20 for non-members (down from $80) while supplies last.
Education programming
The end of the year is fast approaching--do you have all the credits you need?
AISC is offering deep discounts on PDHs for five courses. The flash-sale prices are $20 for members (regularly $50) and $40 for non-members (regularly $100). Here's what's on the menu:
And, of course, it's never too early to start planning for 2020! Enroll for the upcoming Night School program today to save $50 on an eight-session package or $20 on an individual session.
In the upcoming AISC seminar series (or as we call it, Night School), Louis F. Geschwindner will review the principles of steel design according to ANSI/AISC 360-16. The first of these eight 1.5-hour sessions starts January 28.
All of these deals end at 6:59 p.m. Central time on Monday, December 2. Discounted pricing does not apply to previous purchases, and all sales are final—no returns.